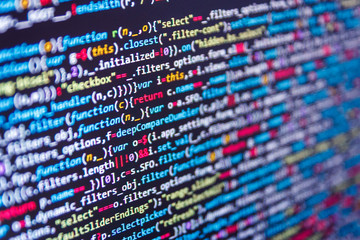 Angular and AngularJS are front-end web technologies created by Google. They allow you to create complex applications (one page apps) running on the browser side. Both frameworks are based on the JavaScript programming language and support creation of web application in the MVC architecture (Model, View, Controller). AngularJS was launched in 2009, and its successor Angular in 2016.
Angular was based on TypeScript, which extends JavaScript's capabilities with static typing. It gives you greater abilities to control and manage code and also shortens the testing period and facilitates the correctness checking. At the same time, the cost of entering TypeScript is low because the file in JavaScript is at the same time correct source code in TypeScript. Nowadays JavaScript is extremely popular. It is the language of the Internet which is supported by all the web browsers. In most cases it is used on the front-end of applications, but concurrently it gains more and more popularity on the server side as part of back-end (e. g. Node.js)
If you are wondering whether to use Anuglar or not, there is a list of companies and websites which were made with this technology. We hope that it will help you to make a decision.
1. Google
Google created Angular. Google uses it on many of its pages, e. g. Google Cloud Source Repositories, or to create Google Cloud blog.
Google Cloud Repositories is a service that lets you create and manage source code repositories.
https://source.cloud.google.com
https://cloud.google.com/blog/
2. Microsoft
Microsoft also uses Angular on many of its services. As an example, we have Microsoft Office Support. This service helps you with supporting and configuration of the Office applications or the Office in the cloud, e.g. Office365.
3. JPMorgan
JPMorgan is one of the largest financial companies in the world included in the Fortune 500 list. It operates in dozens of countries and employs hundreds of thousands of people. Their website with job offers was created using the AngularJS framework.
https://careers.jpmorgan.com/careers/US/en/home
4. Time Warner Cable (Spectrum)
Time Warner is an American cable television network. Their technical support forum was written using Angular.
https://forums.timewarnercable.com/
5. McDonald's
This international fast food restaurant uses Angular in many ways, e.g. on its home page or its mobile version.
https://www.mcdonalds.com/us/en-us.html
6. UPS
The global courier giant often uses Angular on its websites. The effects of this work can be seen on their home page.
https://www.ups.com/us/en/Home.page
7. Sears
Sears is an American company. It owns the Kmart and Sears chain stores. In some parts of their services they use Angular.
8. Apple
Apple is a global technology giant. It fascinated the world with products such as iPhone, iPod, Mac, iPad. The company uses Angular in the products support service, in which you can contact with an Apple expert in a selected field.
9. Adobe
Adobe uses Angular in the application for technical support for the company's products. Moreover, one of their technologies: Adobe Experience Manager (AEM) is most often used together with Angular.
https://helpx.adobe.com/support/experience-manager/6-3.html
10. AT&T
AT&T is an American telecommunications giant. They are probably the largest technology company in the world. They employ over two hundred thousand people. Angular was used to create their main web service.
11. VMware
VMware is one oft the technology companies from Silicon Valley. They built their power on great virtualization software, which probably everyone more or less connected with the IT world has used. At the time of writing this article, the company is valued at over $ 60 billion.
Their web application documenting cooperation with the open source movement was based on Angular.
12. Cisco
Cisco is a well-known IT company. This is another technology giant from the Silicon Valley. Cisco is a producer of many electronic devices used to build, operate and manage computer networks.
Their search engine was written in Angular.
Reference: