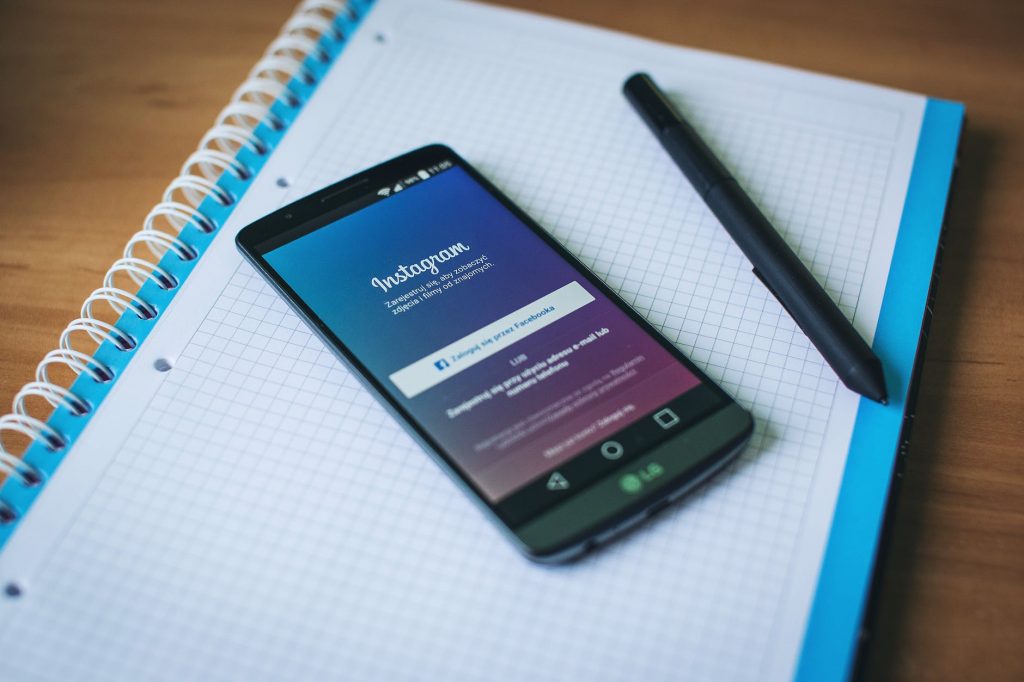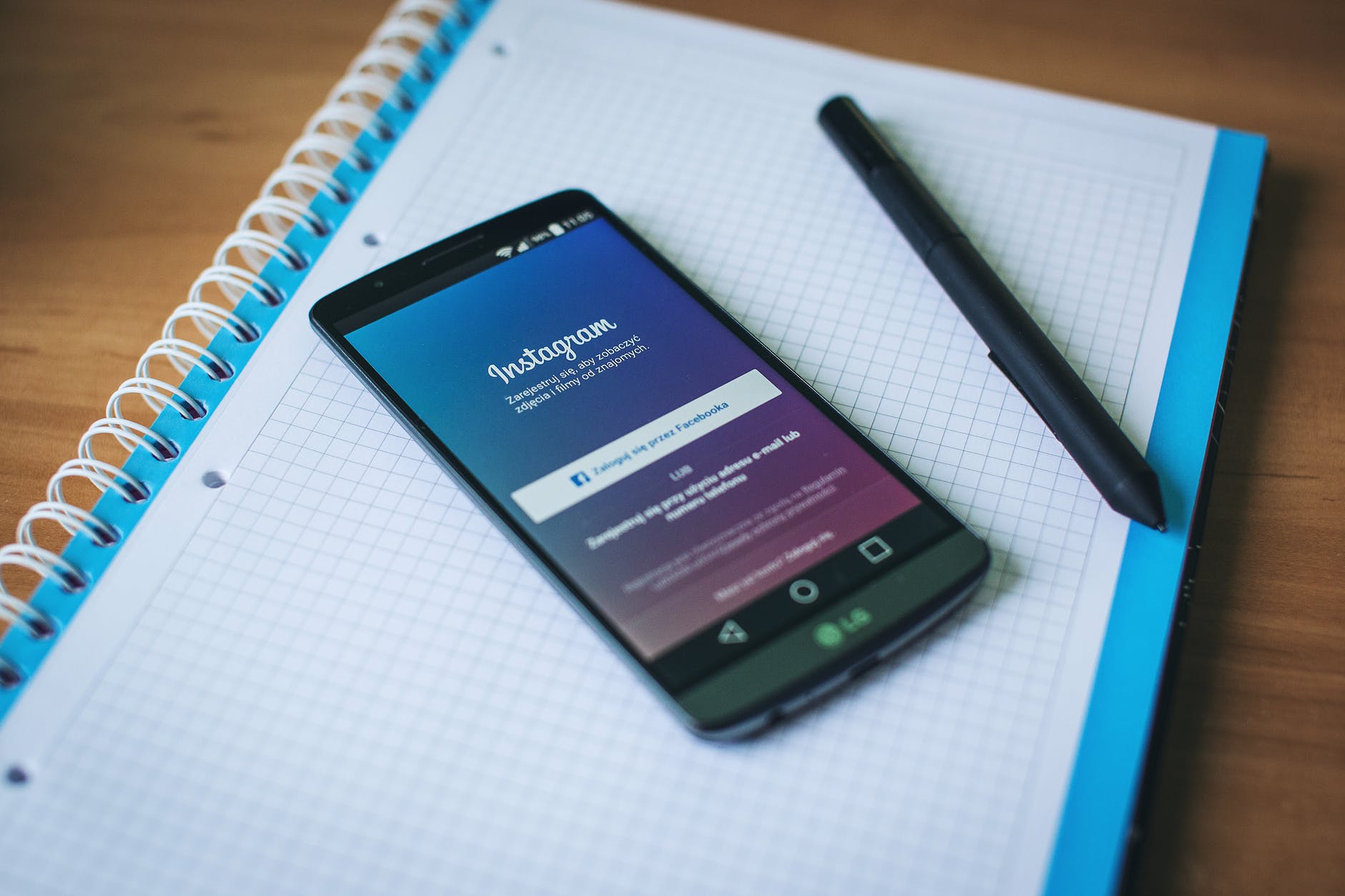 Mobile applications are created for many reasons. Creating an MVP usually checks the product concept and collects valuable feedback from early adopter users. When a solution is built specifically for a company's internal needs, it is intended to help to better manage tasks, documents, or internal processes. These solutions save time for employees and reduce the number of difficulties. However, a significant part of the business applications market exists to bring some financial benefits to company owners. An efficiently operating application that is liked by users can generate high revenues. Below are the most popular and most frequently used monetization methods for mobile applications.
Payment for download
One of the easiest ways to earn money from an application is to place it in a store as a paid version. In this method, users pay for the application when it is downloaded from Google Play or the Apple Store. This model of monetization makes it easy to estimate revenues because it depends only on the number of downloads. Bear in mind that the app's price in the store does not go entirely to the publisher due to the commission charged by the store. The standard is a commission of 30%.
Users of paid applications are generally more loyal and more engaged than users of free solutions. Nothing is surprising in this behavior as customers usually want to get the most out of the product they paid for. Additionally, if the payment is the main method of its monetization, there are usually no ads in it, which improves the comfort of the users. However, the big disadvantage of this method is often strong competition from similar but free solutions. In this situation, the paid application may turn out to be a failure. It's hard to convince a user to pay for a product when there is access to a free counterpart. For this reason, it is very important to define the target group of the application and its behavior. iOS users are more likely to pay to download an app than Android users, so paid applications should stand out from the free ones. Such solutions should, for example, improve processes, have additional functionalities, or have no ads.
An important factor of revenue from the application is its price. It all depends on the category and purpose of the solution. The price of most consumer applications and games is only a few dollars. Such applications are the most numerous in both the Apple and Google stores. According to the Statista website, both stores have the largest number of paid products, with a price below one dollar.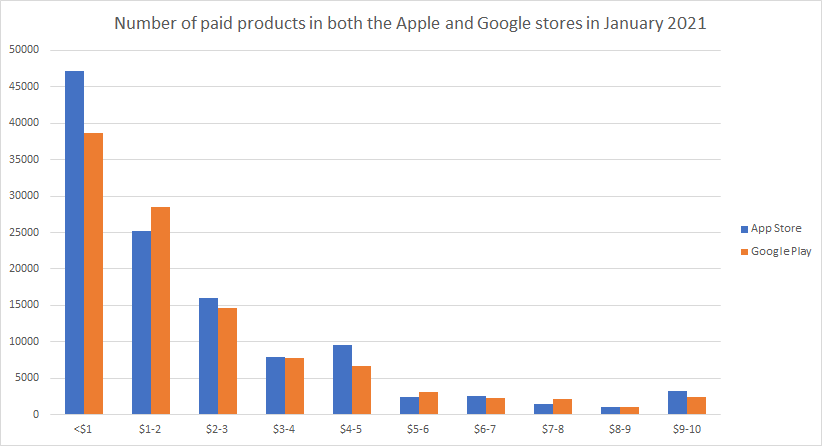 Much more expensive are the business and specialized applications as well as those that speed up many processes and thus save users' valuable time.
One of the most downloaded paid apps from the Apple Store is FaceTune. The app costs $ 3.99 and facilitates photo editing. FaceTune is mainly used to edit selfies, for example, to correct imperfections. The most expensive mobile applications are created with a narrow target group of exclusive recipients in mind. One of the most expensive apps in the world is VIP Black, which costs $ 999. With this app, users can contact the most exclusive hotels and restaurants, and use other luxury services such as yacht charter or jet purchase. The application was created especially for millionaires. To install it, one must demonstrate having at least one million dollars in the bank.
In-app ads
The most popular monetization method is an advertisement. According to Statista, in-app ads are becoming one of the methods that earn increasingly more money. It is mainly due to the growth of the mobile market. What is more, the application owner may opt for advertising schemes that are the least intrusive for the user. Ads can be in the form of a banner, text, or video. An example of an application that earns mainly on advertising is Twitter, which generates as much as 87% of its income by way of advertising.
One way to earn from ads is by joining partner networks like AdMob. AdMob is a service that connects app developers with advertisers. AdMob selects ads from its database that are tailored to the requirements of application owners and displays them in the appropriate place in the application. Thanks to this, application owners do not have to waste time searching for advertisers and can quickly start earning money. Paid in-app ads are the best monetization method for applications with a huge user base. Advertisers are not usually willing to work with people whose solutions are used by only a few hundred people.
Examples of companies that use this monetization method in their applications are Facebook and Instagram. Currently, Facebook is used by over 2.45 billion active users, and Instagram is used by over 1 billion. Thanks to a huge user base, this monetization model works well. It is estimated that in 2019, Instagram generated twenty billion dollars in advertising revenue.
In-app purchases
In-app purchases is the most frequently chosen monetization method for mobile games. Players can buy internal currency and additional accessories such as clothes, weapons, raw materials. This monetization method is used in both paid and free applications. In-app purchases are often used in the freemium model. Users of this model have access to the basic functionalities of the application, but they have to pay for additional features. More information about this model can be found in the latter part of this article.
Pokemon Go is a good example of this monetization method. The game uses augmented reality and enables users to catch Pokemons. The user can also buy PokeCoins currency, to purchase various items, including the famous Poke Balle. The more Poke Balle a user has, the more Pokemon it can have. According to Pocket Gamer, the Pokemon Go mobile app has earned over $ 2 billion purely from in-app purchases within two years of its inception.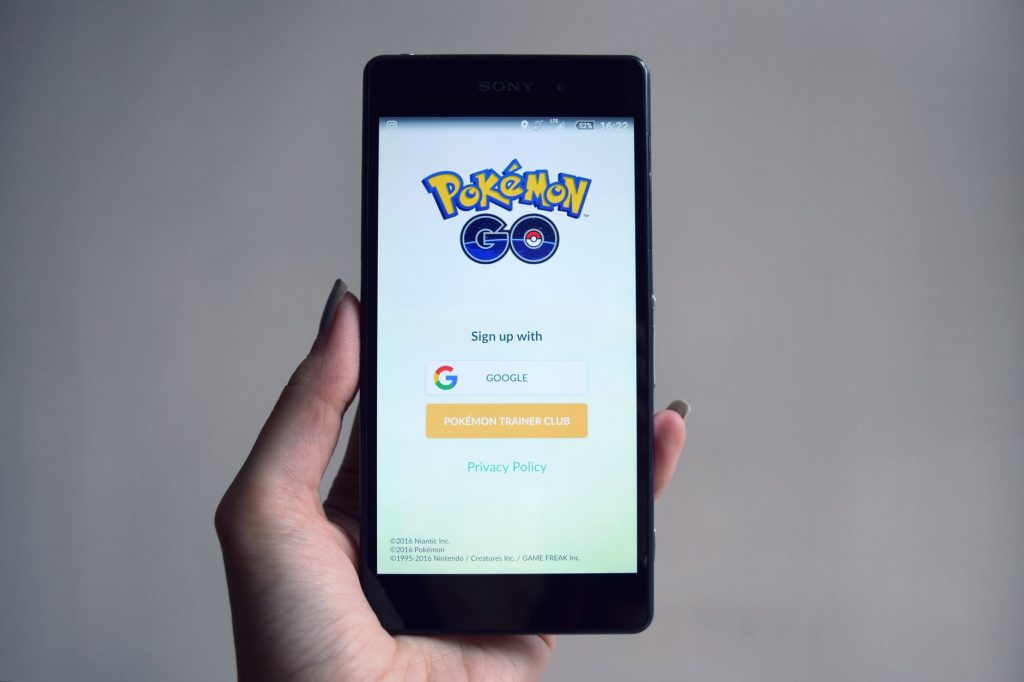 Paid subscriptions
Paid subscriptions are implemented in two main monetization methods. In the first model, the user must buy a subscription to start using the application. Bear in mind that many companies typically offer some discounts for an initial period of using the product. In the second model, popularly dubbed, "freemium", the user has free but limited access to content and functions. Access to additional "premium" features is available, usually instantly, upon purchasing a subscription. There is one more subscription model with a free trial period. Consumers can test the full set of an application's features for free and decide whether to buy a subscription or not. Both Google Play and the App Store use the same strategy regarding the amount of commission charged in apps. They charge a commission of 30% for the first year of subscription following which the commission decreases to 15%.
Subscription models are increasingly used in mobile applications. According to the Sensor Tower report. In 2019, Americans spent as much as $ 4.6 billion on subscriptions in the hundred most popular applications using this model. According to Fast Company studies, in 2019 the number of subscribers increased by 40% compared to the previous year. The growing number of subscribers is the main reason why app owners choose this monetization model. The study also shows that subscription-earning mobile app revenue tripled over three years. This monetization model is so popular due to the variety of offers. Subscriptions are often different in price, time, and the extent of the free featureset. The cheapest version often attracts users and then convinces them to change the subscription package to a higher level. Some applications also offer discounts for longer subscriptions, for example, semi-annual or annual. Subscription revenue is more predictable than other monetization revenue models. That's why an owner of an application can budget more easily for marketing or product development. With the subscription model, it is relatively easy to research and analyze customer flows. This data about consumer behaviors help companies to react quickly in the case of excessive customer outflow.
This monetization method is used, for example, by the New York Times. Customers can subscribe to both the paper and digital versions of the journal. Through the mobile app, readers can buy a monthly subscription to a digital newspaper for $ 14.99 or an annual subscription for $ 129.99. In this way, subscribers have constant access to the most important information and news. In 2020, the New York Times reported that its digital subscription revenue of $ 155.3 million exceeded its paper-based subscription revenue of $ 145.7 million.
Freemium model
Many mobile applications use the freemium model. It provides users with a free application with access to basic functions, while some content and capabilities remain blocked. If a customer wants to access additional content and features, a payment for the desired features is required or an upgrade to a premium account that unlocks access to previously unavailable features.
The freemium model is also a very good marketing strategy. The free version of the application increases the number of users and downloads. As a result, the product has a higher position in the ranking of the applications in stores. Users always appreciate the applications via the freemium model because they can try the solution without any obligations or commitments. The main purpose of this model is to provide a compelling value and a performant subset of the application's useful functions. When the freemium version has enough functions to satisfy its users, it is difficult to convince them to upgrade to the premium version. On the other hand, if the freemium version lacks a sufficiently compelling featureset, users tend to doubt the value of the premium version. Most of the applications that use the freemium model have a freemium-to-premium conversion rate of around 2-5%.
In the case of Evernote, the conversion rate from a free account to paid subscription is 4.1%. The application makes it easy to create, store and share notes. Users can choose between the free or paid version. The paid subscription offers include the same as the free version, along with additional features such as offline access to notes or creating notes with a maximum size of 200 MB.
Bear in mind that there are cases with much higher conversion rates. The undoubted king of the freemium model is Spotify. In 2019, this company had a conversion rate of free to paid monthly subscriptions of around 27%. The freemium model works best for applications with a large user base. Customers can create a community and share various content, photos, or videos with each other.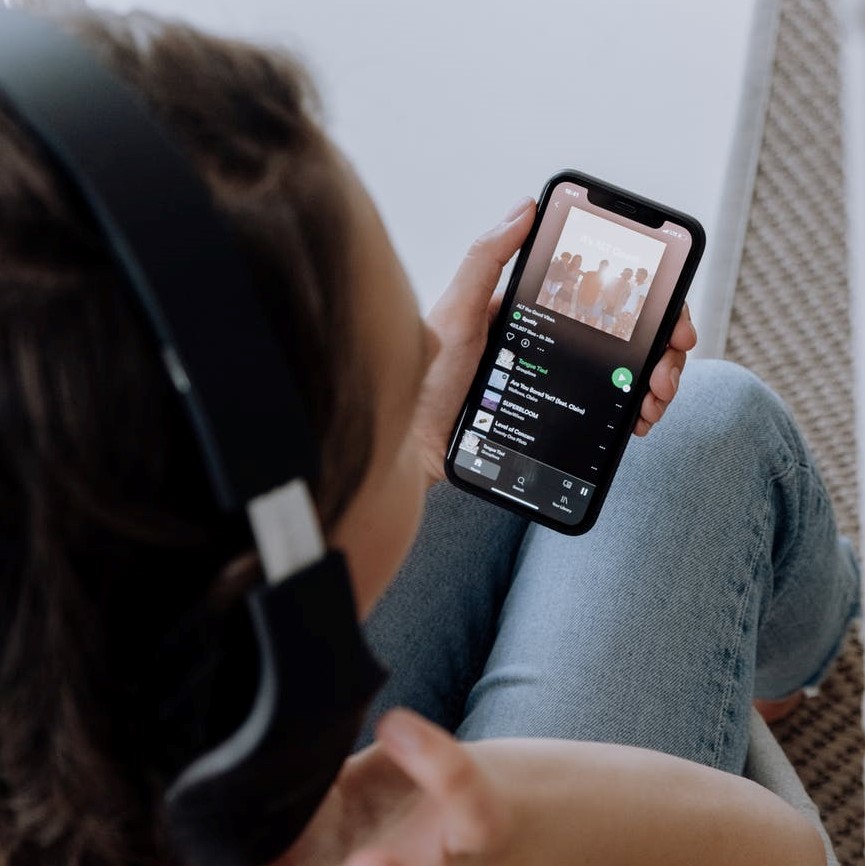 Tinder is another application that uses the freemium model. Anyone can create a Tinder account for free and look for their significant other. However, the free version of Tinder has some limitations, such as the ability to view a specific number of suggestions within 24 hours. A paid premium account on Tinder does not have those limitations and also enables changing the user's current location.
Crowdfunding
Crowdfunding is a monetization method by which applications are funded by a community. On crowdfunding platforms, people can raise funds for the creation or expansion of an existing application. However, this initial form of monetization can only be temporary as it does not provide a steady income stream.
Cohort, a mobile application, was created thanks to crowdfunding. The app is a social networking site that focuses on building real relationships. Cohort users do not have hundreds of friends, but several dozen, including their closest friends and family. The cohort application is intuitive to use and highly safe. The creators raised funds on Kickstarter. In return for donating, they allowed all their donors to use the application before the premiere.
Affiliate programs
Affiliate programs are often based on cooperation between application owners and an influencer whose aim is to promote the application on YouTube or social media. An influencer with thousands of followers can significantly increase their interest in the application. An influencer may also require some kind of discount for followers to entice them to use the solution.
Sometimes influencers release their own app. Kim Kardashian and her sisters have released the mobile game "Kim Kardashian: Hollywood". Users can create their characters and organize their daily life. The application offers free access to some functions and elements of the game, such as clothes or equipment, but the remaining features are available only after payment. Kim has over 192 million followers on Instagram, a large part of which are teenage girls. This is why it was a good solution to build an application designed for this target group. Kim and her sisters promoted her application on social media, so it's no surprise that the app has been downloaded more than 40 million times.
Affiliate programs can be also based on promoting other applications or services in another solution. The application includes links or advertisements for other applications and earns a commission for clicking or downloading the promoted application. Most of the largest companies such as Google, Microsoft, and Apple have extensive affiliate programs. They offer a wide variety of applications to promote. It is wise to choose an application that is a complementary product to another solution. Then users will be interested in the promoted application as well as its promoter.
Nike has established a partnership with Headspace. The Nike application contains instructions for proper running, speed, and endurance. The Headspace app provides expert advice on a runner's mentality and sports meditation. In this way, Nike App users not only get more involved in using the app but can also download the Headspace App for more information.
Affiliate Marketing
Another monetization method is affiliate marketing. Affiliate marketing connects app owners with advertisers. The application does not earn money by showing ads. The application owner receives a commission only when the application user enters the affiliate link, goes to the advertiser's website, and makes a purchase. The commission is received from the advertiser only for the generated sales.
An example of an application that earns from affiliation is, of course, Facebook. Facebook has a huge base of daily active users. For this reason, it is very often chosen by advertisers. Some advertisers even look for application owners and encourage them to join their affiliate programs. Booking is one of the websites that offers a special program for affiliate partners.
Marketplace
The marketplace gathers into one place products and services from various suppliers and service providers. This modern sales approach presents products and services on some platforms. Thanks to this, the user has access to a huge database of products and services. Clicking on the presented product redirects the user to the sales page. Most often, a marketplace is an online store selling, among others, clothes, shoes, food, tours, or plane tickets.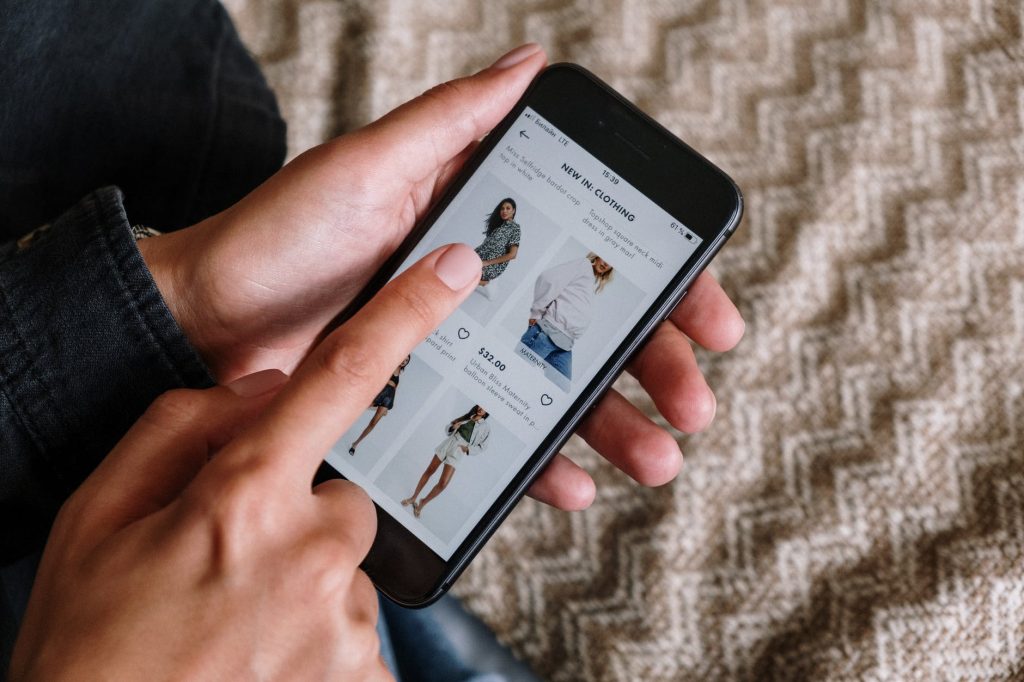 The Booksy app enables users to book an appointment with a beauty and health specialist (make-up artist, hairdresser, beautician, barber, tattoo artist, or masseur). Thanks to Booksy, users have access to a wide base of professionals whose quality of services is confirmed by customer opinions. Uber is a good example of a marketplace. Drivers can register themselves to offer services via the Uber app. Application users select a specific driver (usually the one closest to their location) and order a ride. Users can also book a ride in advance, as well as choose SUVs and other comfortable cars. For more information about Uber's business model, see "Uber Business Model Explained: From Start to Finish".
Sponsors
A good, but relatively difficult, monetization method is sponsors. Such people pay the application owner to promote their brand, person, or product. It is wise to choose a business partner related to the subject of the application. Bear in mind that sponsors often request exclusivity during an ongoing campaign and, as a result, only their advertisements are included in the application.
The Gayot application offers professional reviews from culinary critics. The application is eagerly used by business travelers who appreciate a tasty meal. Due to the positive feedback from Marriott restaurants, Chase, a company promoting the Marriott Reward Premier credit card for business travelers, decided to sponsor the application. As a result, the application contained primarily advertisements of the Marriott Reward Premier credit card. In this way, Chase reached more people who were interested in a credit card.
Application code licensing
Application code licensing is not a common monetization method. Application code created from scratch can be very effective and attractive, so the owner might want to license it to other applications.
A good example of this license model is the code for the Temple Run mobile game that was used to build Temple Run Oz. In the Temple Run game, the player is an adventurer who has stolen a valuable figurine and runs away from chasing monkeys. The game continues until the monkeys catch the fugitive. In 2014, it was announced that Temple Run and Temple Run 2 had been downloaded 2 billion times in total. No wonder that Disney was interested in this application. The company wanted to promote its new movie "Oz: Great and Mighty" with the help of a mobile game. Disney signed a contract for the game code license and, together with its creator, created the arcade game Temple Run Oz.
Sale of the application
One of the ways to profit from a mobile application is to sell it to a large company. Such a buyer often already has its own program that works on a similar principle. To earn money by selling the app, it is best to launch it for free at the beginning to get as many users as possible because companies pay particular attention to the number of users and their coverage. Businesses new in the market are eager to acquire applications. Thanks to this approach, they reduce competition and immediately acquire customer resources.
---
Despite numerous monetization methods, it is still very difficult to answer the question of which of these methods is the most effective. It all depends on the value of the application and the number of active users. There is not only one right choice. Moreover, often the best decision is to diversify methods and use several of these simultaneously. Many application owners combine the freemium model with advertising. In the case of mobile games available on iOS devices, many decide to provide a paid application with purchases inside. These are only two examples. Many businesses use several monetization methods to achieve the highest revenues.