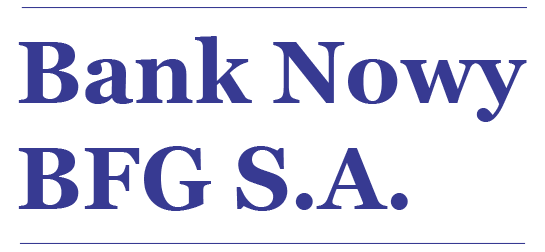 BFG Bank - optimization of a back office system
Our regular client, Podkarpacki Bank Spółdzielczy (now Bank Nowy BFG S.A.) turned to us with a serious problem - one of the internal systems supporting the Bank's operation had been working more slowly for some time. In particular, one specific calculation process, necessary for the Bank's operation, many times lasted over a dozen or so hours, sometimes ending correctly and returning the expected result, and sometimes returning an error. The client asked us to investigate the anomaly, remove the cause of errors, and speed up the operation.
We analyzed the problematic system. As it turned out, the system was quite old, written in old technologies (old versions of Java and PHP). Furthermore, the source code was incomplete - there were no sources for the module written in Java.
After analyzing and making sure that the source files are not available, we decompiled the JAR files, so we could look "under the hood". Analysis of the decompiled code allowed us to find the reason that had been causing the interruption in some cases. Additionally, the program's operation had been optimized, as well as the operation of fundamental calculations has been paralleled.
ImpiCode succeed in:
eliminating the operational errors,
updating the PHP and Java code to newer versions,
optimization of one of the used libraries,
over 100-fold acceleration of operational performance of the key computational process (from several hours to several minutes)
---
References
---
Podkarpacki Bank Spółdzielczy provides high-quality financial services using modern technologies and distribution channels. The Bank have been working with ImpiCode Sp. Z o.o. since 2018. The cooperation involves maintenance and modernization of the Bank's internal systems.
ImpiCode is a trustworthy business partner. The company's employees have extensive experience and high competences. The communication with the project manager is at a high level and it is very effective. Developers are efficient and professionally implement all the tasks. And that greatly contribute to improving the internal processes of PBS.
We are pleased to recommend ImpiCode Sp. Z o.o. as a professional business partner and competent provider of programming services.
– Andrzej Dubis
Director of the IT Department PBS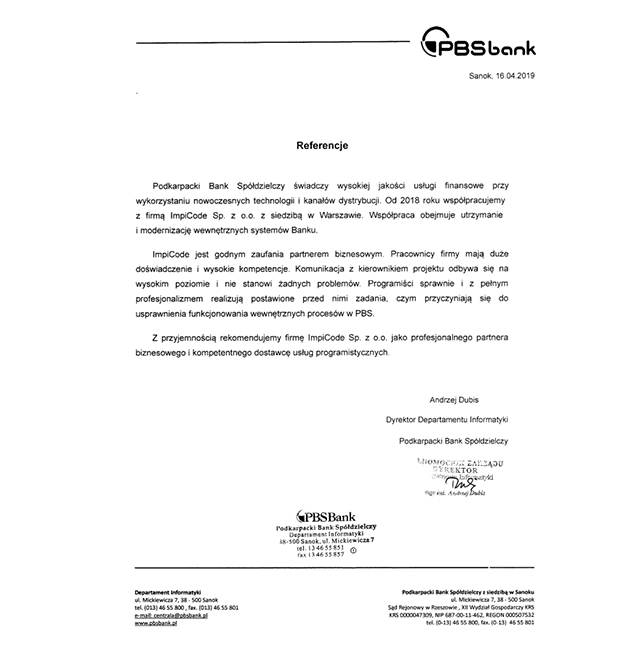 ---
If you want to learn more about this solution, or need a similar application, please write to us.
If you are interested in other types of projects or want to learn more about our business, we invite you to the catalog of selected projects.
---